Where do we go from here ?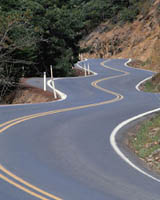 Another World Cup has gone for American fans, and we're all upset. Even though we knew that our players weren't world class, and that we were placed in a very tough group, it doesn't ease the malaise.
After the 2002 result, there was reason for optimism...until the draw, that is.
We had a great run in South Korea and played the eventual second place team very tough.
Truth be told, the intervening 4 years were fun. In 2003, US soccer fans got to watch some of the giants of European soccer play on our soil. I was lucky enough to be at the Manchester - Juventus game in August of 2003 when Tim Howard impressed his teammates enough to become their starter. Beasley, Convey, Gibbs and Bocanegra also became starters on good European clubs while Cherundolo, Johnson, Onyewu and Dempsey made us glad representating the next wave of American soccer. Landon Donovan went back to Germany, until he came bacl to LA.
Well, we're back to Earth now, replete with the understanding that a quadrennial tournament can break your spirit. There's no tomorrow and no 'next season'.. it's a long wait and there are no guarantees. Four years ago, I hadn't met my wife yet. In 4 years, I hope to be a father and living in a house. Will I even have time to watch the games? Will my son need feeding during the US-Chile match?
And, it's different for US fans. European, African and South American fans have their regional tournaments, so Juan, Pascual and Ejay are never more than 2 years away from a big game.
Until the next match in anger, we can root for our MLS teams and their continued development of good talent. We can follow the current "Yanks Abroad" and look towards the next group to make there way over there. There are more US national players in Europe than ever before and that's an exciting thing. Soon, Freddy Adu will be one of them.
We should play more overseas and domestic friendlies against big teams - France, Spain, Holland, England. We should be in the next Copa America. We should reinstitute the US Cup, although it is a drag on MLS. OK, so we'll make it a winter tournament.
We don't need a sea change of ideas, basically because there's nothing we can do that would represent an overhaul. We just need to promote the game, and train our players best as we can.